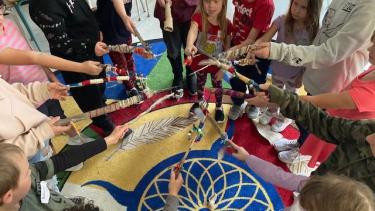 RESPECT Multi-Age activity
November 3rd 2022
At SES, we are exploring the Seven Sacred Teachings as a core value system within our school code of conduct.
The Seven Grandfather Teachings have been a part of Indigenous culture since time immemorial and have been passed on orally by elders for centuries.  The Teachings of the Seven Grandfathers-Love, Respect, humility, truth, honesty, wisdom and courage-are the most commonly shared teachings among First Nations. The teachings vary from nation to nation due to geography and their community values, yet they share the same concepts of abiding by a moral respect for all living things.
Although the teachings do not have a specific origin, they hold particular significance to the Anishinaabe and the Ojibwe people and are considered the founding principles of their way of life and necessary for survival of their people.
We honour, acknowledge and respect the many generations and ancestors who have lived, and passed on, the Seven Sacred Teachings and are grateful for this opportunity to share in these guiding moral principles.
October was a month of honoring the teaching of RESPECT which is represented by Buffalo. In traditional indigenous culture, "the buffalo gave every part of his being to sustain the human way of living, not because he is of less value, but because he respects the balance and needs of others. Live honorably in your actions towards all things. Do not waste and be mindful of the balance of all living things. Treat others the way you would like to be treated. Do not be hurtful to yourself or others."
After a month of learning more about the Seven Teachings, the many uses of the buffalo, and discussing and role playing scenarios of respectful behavior, we chose to make TALKING STICKS. The purpose of the talking stick has always been to fully listen to, and respect, each other's opinions. The stick was passed from person to person and only the one holding it was allowed to talk. The person honors the person's importance while they have the stick. Great decisions were made and disputes solved through the talking stick process. An "Answering Feather" was also sometimes used. If the speaker asked a question, the answering feather was passed out to the person who was to answer the question. Each Part of the talking stick is unique and has meaning. The objects and decoration on the stick are symbols of a person's life. Colors of beads, type of tree, hides, and feathers all have different symbolic meanings for different tribes.
In Multi-grade groups, the students worked together to create their sticks. There were many leadership and learning opportunities. Hopefully, your child brought home a stick they were proud of.  
We look forward to our next multi-age activity in November as we explore the Teaching of COURAGE as represented by BEAR.
Kari-Lynn Hatt
Indigenous Success Teacher